In this electronics project, I have explained how to make simple LED chaser lights with CD4017 & 555 timer IC.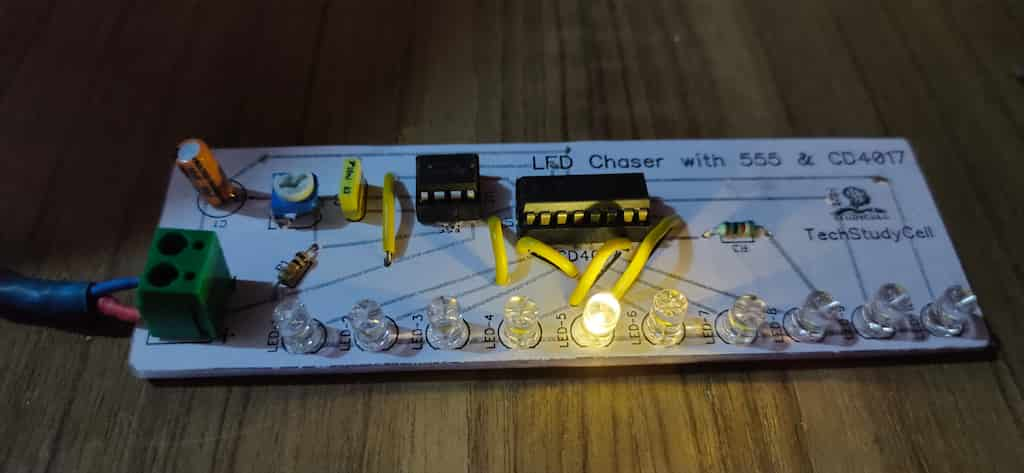 In this article, I have shared the required components, complete circuit diagram, PCB layout, and all other details for this simple 555 timer project.
LED chaser Circuit Diagram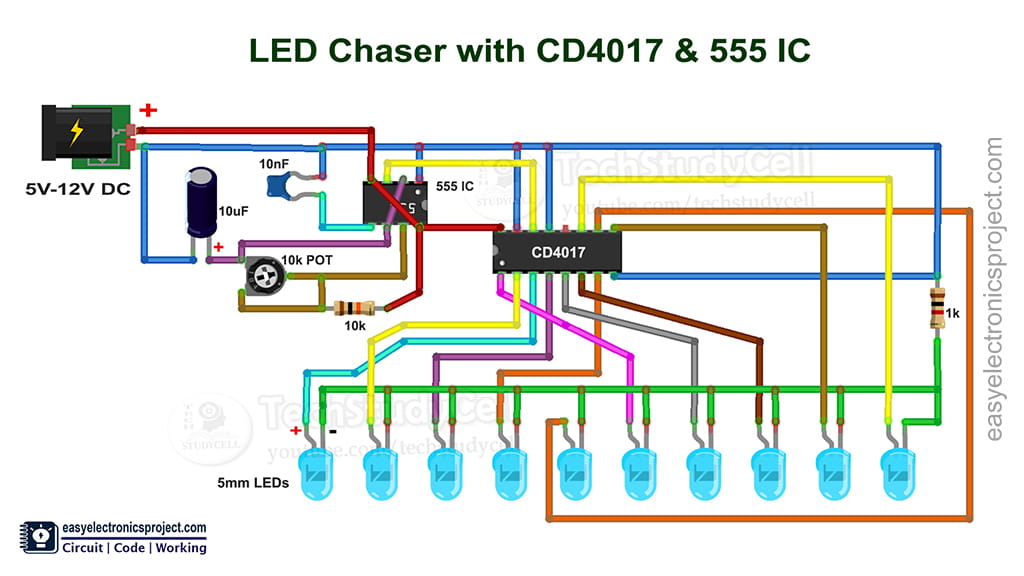 To make this simple LED chaser circuit I have used a 555 timer & 4017 IC. Here the 555 timer IC will generate the clock pulse for CD4017 IC. Then 4017 IC will blink the LEDs in sequence as per the signal in the clock pin (14).
I have used a 5V DC supply, but if you want to use the 12V DC supply (no changes required for 12V).
PCB Layout for LED chaser Lights
Please download the PCB layout, then print it on the A4 page.
Please check the PCB size while printing, it should be the same as mentioned.
You can also download the PCB Gerber file for this project.
Required Components for LED chaser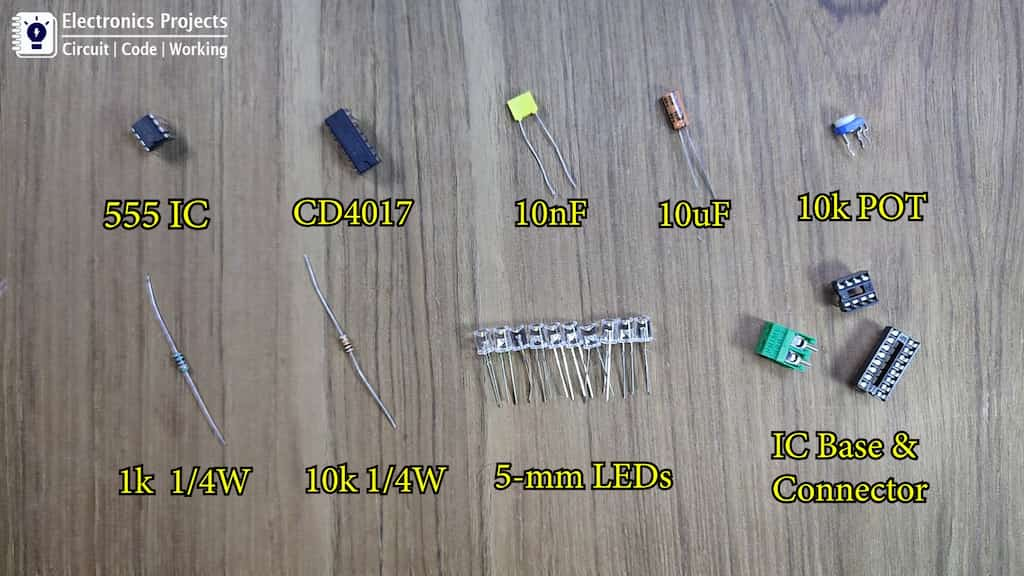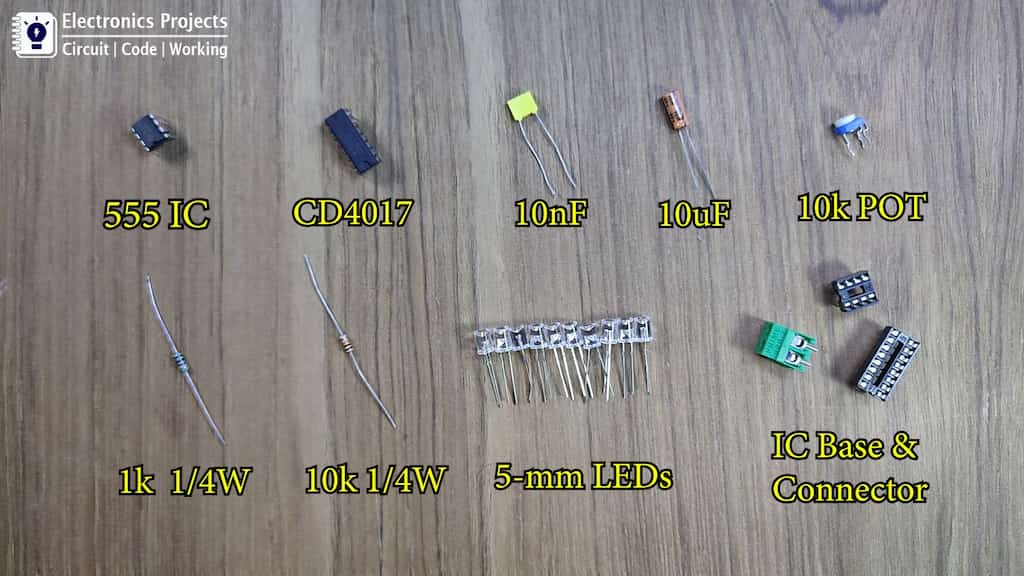 555 Timer IC
CD4017 IC
10nF capacitor
10uF capacitor
1k resistor
10k resistor
10k POT
5-mm LEDs
IC Base
Terminal connector
Tutorial Video on this 555 timer Project
In this tutorial video, I have explained all the steps to make the homemade PCB for the LED chaser light circuit. To make the PCB I have used an acrylic sheet.
How to make DIY PCB using plastic sheet
Testing the running LED chaser circuit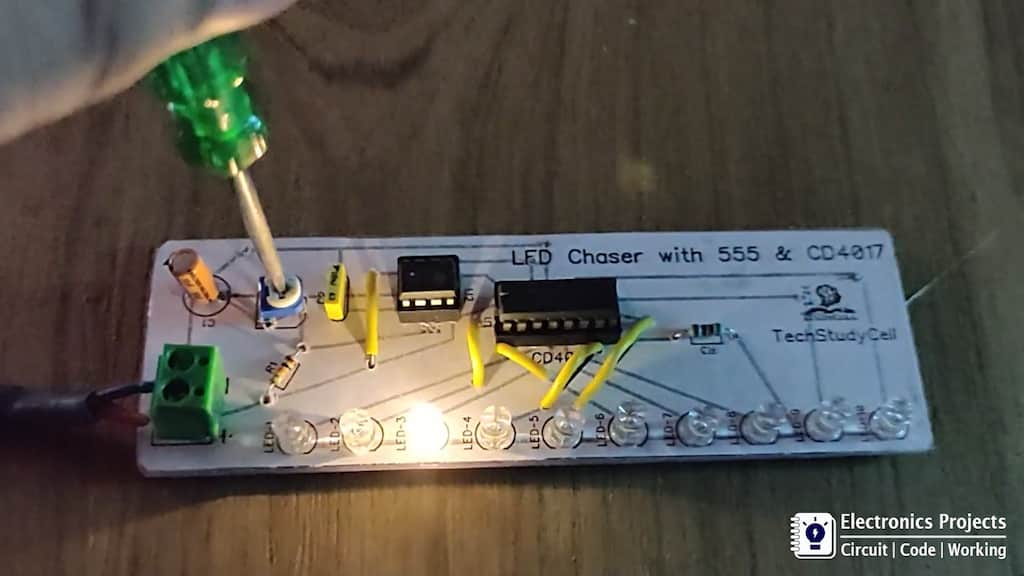 Now connect the DC supply (5V/12V). You can vary the speed of this running LED chaser by rotating the potentiometer or trimmer.
Please share your feedback on this mini-project and also let me know if you have any queries.
You can also subscribe to our newsletter to receive more such useful electronics projects through email.
I hope you have liked this electronics project, Thank you for your time.