In this mini-project, I have shown how to make 5 volt DC supply using 7805 voltage regulator. You can use this 5V DC power supply to supply different electronics projects.
5V Power Supply Circuit Diagram
The circuit is very simple. To make this 5V DC power supply I have used a 7805 linear voltage regulator.
Required Components: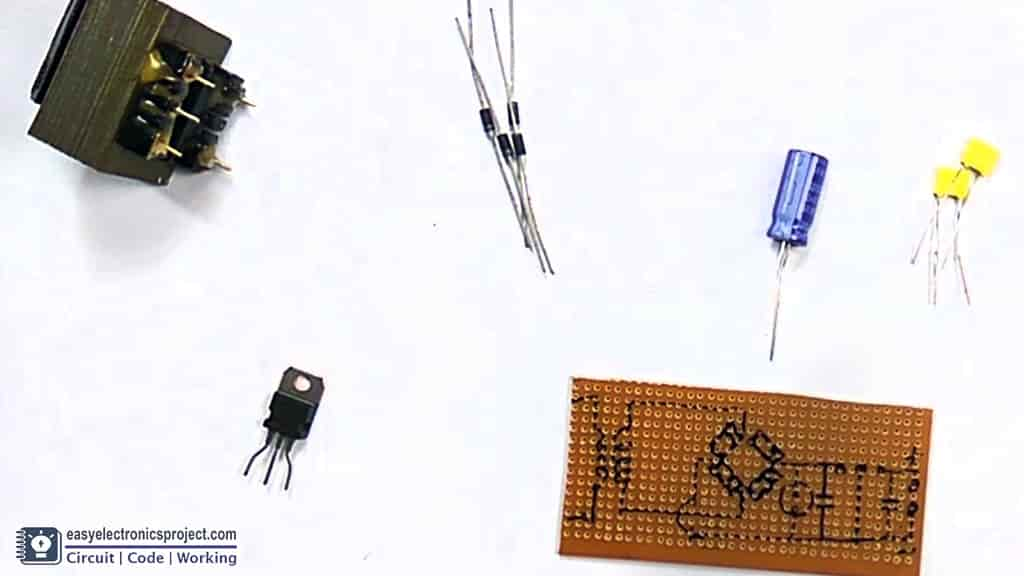 7805 voltage regulator (5V)
0.1uF Capacitors (2nos)
470uF Capacitor (1 no)
Diode 1N4007 (4nos)
Step Down Transformer [230/110V – 9V]
Connector
Connecting wires
Zero PCB
How does the 5V Power Supply work?
First, we are using a step-down transformer [Secondary rating 9Volt & 1 Amp] to step down 230V/ 110V AC supply to 9-Volt AC. Then we rectify the 9V AC to 9 V DC using a diode bridge rectifier [Full wave rectifier]. After the rectifier, we have used Capacitors to filter the ripple from the circuit and fed it to the input of the 7805 voltage regulator. 7805 regulates the 9 volt DC to 5 Volt DC and at the output of 7805 ic, we get constant 5 Volt DC output.
Tutorial Video on 5V DC Supply Circuit
In this tutorial video, I have shown all the steps to make this 5V DC Supply circuit on zero PCB.
You can order any custom design PCB from PCBWay for your electronics projects.
About PCBWay and their services
PCBway is a very well-known PCB manufacturer for various types of PCB boards at very reasonable prices. They not only produce FR-4 and Aluminum boards, but also advanced PCBs like Rogers, HDI, Flexible and Rigid-Flex boards.
For the online instant quote page please visit – pcbway.com/orderonline
At PCBWay, all the boards pass through the most stringent tests other than the basic visual check. They use different testing and inspecting equipment, such as Flying Probe Tester, X-Ray Inspection Machine, Automated Optical Inspection (AOI) Machine, etc to make sure the quality of the final product is good.
You can also explore their open source community to get different types of PCB projects with all required details pcbway.com/project/.
For more details please visit the following articles.
Why PCBway
PCB Capabilities
High-Quality PCB
Steps to order PCB from PCBWay
To order the PCB first visit PCBWay.com.
Then enter the following details:
PCB Size (Length & Width) in mm & PCB quantity
Select masking color for the PCB
Select country and shipping method
Click on the "Save to Cart" button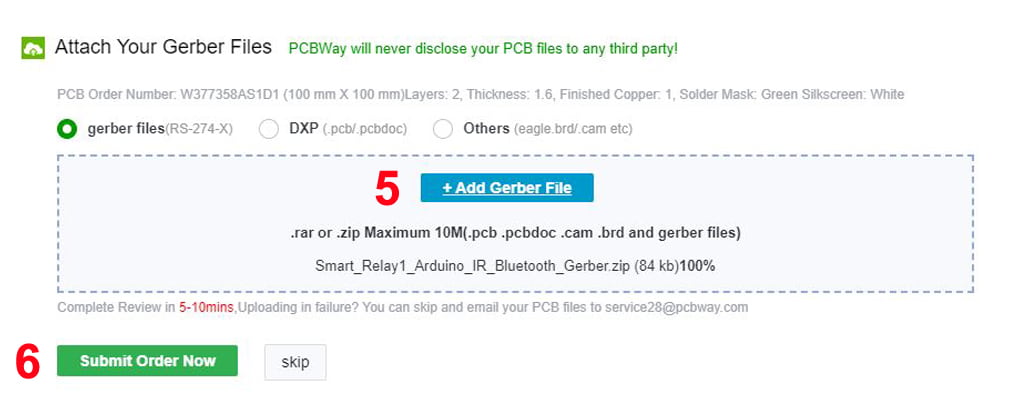 Now click on the "Add Gerber Files" to upload the PCB Gerber file.
Then click on the "Submit Order Now" to place the order.
After that, they will review the Gerber file and accordingly confirm the order.
I have used their services for my different electronics projects, I always received the PCB on time and the quality is very good in this price range.
Making the 5V DC Supply on zero PCB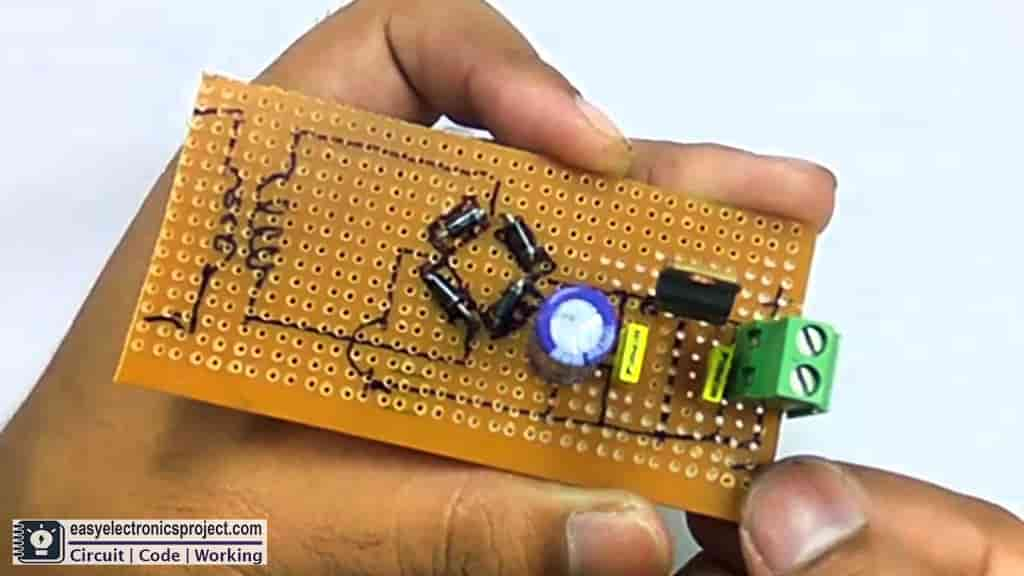 As the circuit is very simple, so you can easily make the 5V DC supply on Zero PCB.
In this case, I have drawn the circuit on the PCB, then I have places all the components as per the circuit.
After placing the components, just solder all the components on PCB. And connect the secondary of step down transformer with bridge rectifier.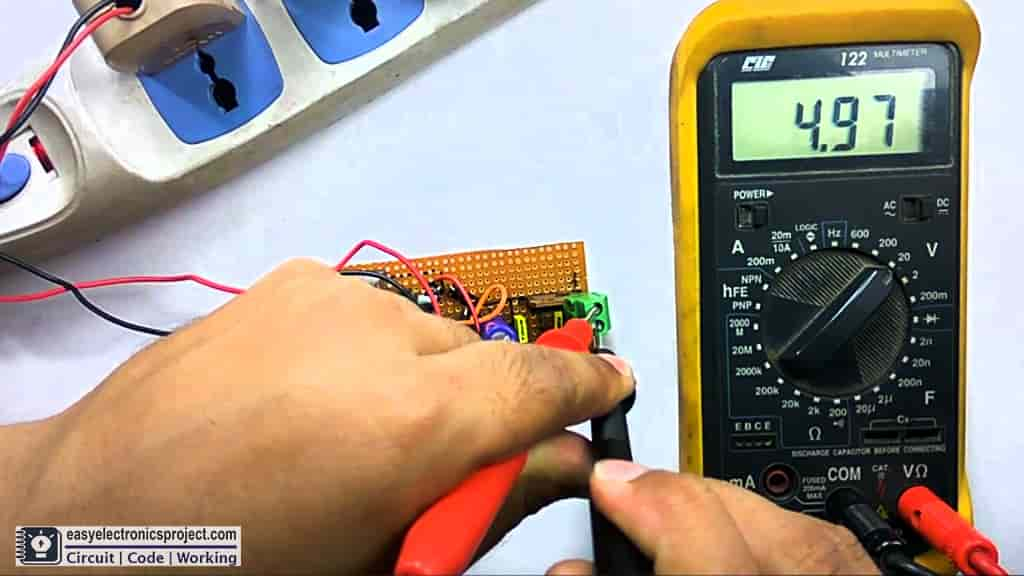 After that turn on the supply and check the output voltage using a multimeter.
You can also use heatsink with 7805 regulator.
Now, you can use this simple 5V supply for different electronics projects.
Here, I have used the 5V power supply to supply 5V to one of my Arduino projects.
Please share your feedback on this mini-project and also let me know if you have any queries.
You can also subscribe to our newsletter to receive more such useful electronics projects through email.
I hope you have liked this electronics project, Thank you for your time.